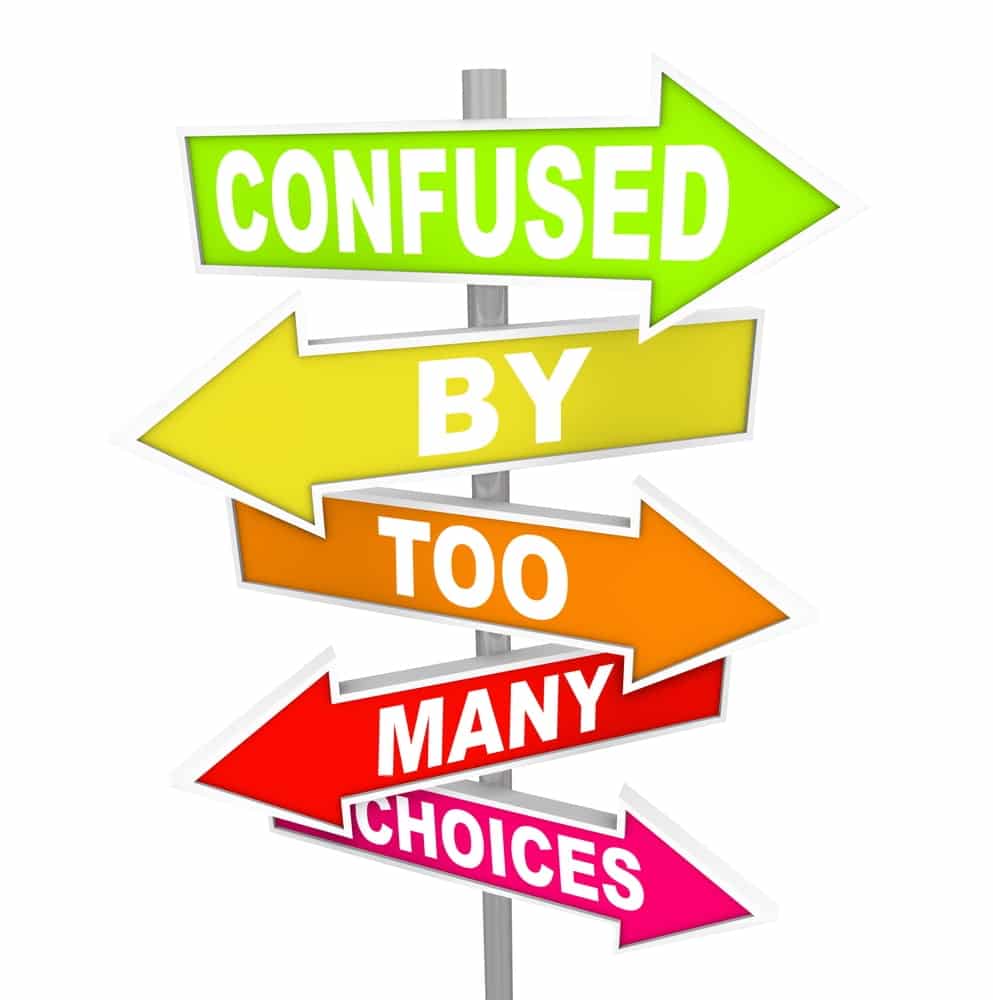 I recently attended the Photo Booth Expo, a trade show in Las Vegas. There was a dizzying array of styles of photo booths. There were more traditional booths, reminiscent of the arcades of old. There were very small setups that would fit in a suitcase. There was even someone walking around with her remote controlled, motorized, robot-like equipment. Everywhere you looked there were colors, flashing lights, props, signs and backdrops.  Sounds, music and the constant din of voices were coming at you from all angles. It was not the place to be if you wanted some peace and quiet.
How do you decide?
While I wasn't in the market for a photo booth (I was exhibiting my books and services), I tried to imagine what it would be like if I were shopping for a photobooth, or accessories. How would I decide? Where would I start? So, I spoke to a few of the attendees and asked if it was helpful, or overwhelming, to have so many choices. As with many decisions, there are educated consumers and novices. The more educated consumers came with a mission. Many had done their research prior to coming to the event. They already had narrowed the choices down to a smaller number, some even looking specifically for one vendor or booth.
For many others, the number of options was debilitating. Each shiny object was its own draw. Each slick sales pitch or marketing promo made promises. With this many choices, how would they decide? Would it be based upon size, or price, or ease of use or maybe the reputation of the manufacturer/distributor? If all other things were equal, what would be the tie-breaker? Or, are there so many choices, that some people will choose not to decide at all?
The paradox of choice
That's the paradox of choice. When we're the consumer we want to know that we've seen all of the choices; however, in this world of almost infinite choices, how do you decide? How do you narrow down the choices to the best few? And then, how do you narrow those down to the best one? Buyer's remorse happens when you make a decision, and then feel as if you made the wrong decision. It could be that you feel you spent too much, or overpaid (which is a value decision, not a price one). It could be that you think there were other options you didn't yet see. Or maybe that you felt you were pressured into making a decision. Whatever the reason, buyer's remorse is real.
How does this affect your customers?
In many of your businesses, there are lots of choices. Whether it's which foods for their menu, which dress to choose, which rings to get, or which song for their first dance, choices are all around. When you add up the number of services each couple uses for their wedding (an average of 10 to 12, according to WeddingWire), and then the number of choices within each of those services, there are hundreds, or more likely thousands, of choices. It's no wonder that a common reason for not buying that day, is that you've given them so much to think about, they need to go home and process it all.
How can you help them decide?
While it may seem counter-intuitive at first, the best way to help them decide, is to give them fewer choices. I'm not suggesting you should have fewer options (that's a discussion for another article); rather, you shouldn't present them with as many choices. Your job is to ask them good questions, listen to the answers, and then only present them with the choices that will get them to the outcomes and results that they desire. People buy the outcomes and results. They review the outcomes and results. Therefore, help them decide by finding out what those outcomes and results are, and then show them how the few options – or even one option – that you're presenting to them, will lead them to those outcomes and results.
It's much easier to close the sale when there are only one or two choices in front of them. Reduce the distractions by not presenting options that won't fit their needs. You can present them with options that are above their stated budget, as long as they represent things that will get them the outcomes and results they desire. Don't oversell them – selling them things they don't want/need and aren't necessary to achieve the desired outcomes. And don't undersell them – let them buy things that will bring them less than the desired outcomes (you don't want to put you name on those products/services, as it's you that's going to get reviewed).
Be their filter
One of the ways that websites like Amazon.com help us decide is with filters. Depending upon the product, we can filter by manufacturer, shipping options, color, size, and price. We can filter by the average review score. We can sort low to high, or high to low, or newest first or oldest first.  Even choosing how to filter requires decisions, including whether to filter at all, but we need the filters. There are just too many choices. You need to be their filter. You need to help narrow down their choices, so it's easier for them to decide. You need to make it easier to buy, which in turn makes it easier to sell. I don't care how many products, services or packages you have, just don't show them all to any one customer. No one needs to see them all. They can't be right for every customer.
As their filter, you're listening to what they want their wedding or event to be like. You're listening to what they want to feel when they see their photos and video. You're listening to what's most important to them, and then reducing the number of choices that will get them there, and then only present them with those few, filtered choices. It's much easier to close the sale using the choice-close – would you like this one or that one – than it is asking which of 5 choices they'd like to buy.
What about having 3 packages?
Now, some of you have seen me present on packages, or have read "Shut Up and Sell More Weddings & Events" and are asking, "But Alan, didn't you say that 3 was the right number of packages?"And if you're one of those people, you'd be correct; I did say and write that. Having 3 packages tends to draw people to the one in the middle, it's called the "Center Stage Effect" by the Journal of Consumer Psychology. But having 3 packages isn't the same with presenting all 3 to every customer. If you determine, through your questioning, that one or more of those packages are not right for a customer/couple, then don't show it to them – at all; it's a distraction. It's the same with showing a wedding couple a marketing piece that talks about your Bar Mitzvah, Prom, Quinceañera, and Corporate services. They're not relevant to them, at least not at this time. Your job is to reduce the distractions, not add to them. Make it easier for them to decide. As consumers we always decide from the choices presented to us. So, don't be like the trade show floor, with countless choices and distractions. If you've received an inquiry from them, they've already done a lot of filtering, and you've made it this far. Be the quiet place of solitude, so they choose more easily.
---
Do you need help with reducing the choices? Is your sales process too much about showing and telling everything you offer? I've helped many businesses, new and established, streamline the process. Don't take my word for it, listen to these businesses who've worked with me:
"Alan Berg's presentation was informative and well presented. In the past few weeks, I have already experienced positive results from utilizing some of the techniques Alan suggested." – Leann Batty, Martin's Caterers, Baltimore, MD – they've had me in twice!
"The two-hour consultation that my team had with him was more than just a shot of adrenaline, it added true clarity to the things we are doing well and the things that we needed to change immediately. We put Alan's suggestions to work right after the call and saw instant success!" – Rob Meagher, My Elite DJ, Denver, CO
"Alan is a DYNAMO. His thoughts and suggestions on websites, marketing, sales and pricing will inspire and push you to rethink EVERYTHING you've been doing and make it better." – Nicole Vance, Nicole Vance Photography, Richmond, VA
---
If these are the kinds of results you'd like for your business, call/text, email me or use the short form on this page, 732.422.6362, international enquiries 001 732 422 6362