Are you ready to Master a Mastermind Day?
Here's how you can arrange a Sales Mastermind Day with Alan, in your area!
Why organize a Mastermind Day?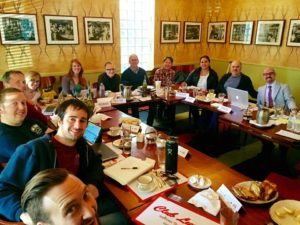 Having Alan come for private training is great for your business, but not everyone's budget can afford it, so a Mastermind Day is a great alternative. Unlike a conference, your One-Day Mastermind is a full-day of collaboration, consultation and co
nversation. You and the other attendees, your industry friends and contacts, will leave with action steps on how to improve their sales process and websites, and many have already past attendees have implemented some of the ideas while still at the Mastermind Day.
" Well, he's done it again… we've had Alan in for 2 years now to Mastermind with our vendors and help them with everything from customer service to closing the deal. He's worth every penny and that's not me saying that – that comes from my vendors who come to the conference." – Stacey Blackwell, NM Wedding Guide, Albuquerque, NM
Read on or click to find out more, to see the 4 Easy Steps for arranging your own mastermind day. And then, to check Alan's availability and get suggestions on room setup and pricing your Mastermind Day tickets, email Alan, text, use the short form on this page, or call 732.422.6362, international 001 732 422 6362
" Just a short week later and my team is already booking new clients using some of the techniques discussed. Alan is an absolute expert and I could have picked his brain for days." – Nora Sheils, Bridal Bliss, Seattle/Portland/Bend OR
" I am so glad I was able to attend his Mastermind Day. Now I feel like I could sell water to a fish. His knowledge was very inspiring and kept me yearning for more.." – Jeremy Carrizales, Cutting Edge Entertainment, San Antonio, TX